Date: 15. - 16. June 2005
Venue:
The conference will be held at

ZKMax Munich (www.ZKMax.de), a cooperation of Kulturreferat München and ZKM Karlsruhe center for art & media in collaboration with the city of Munich, Germany.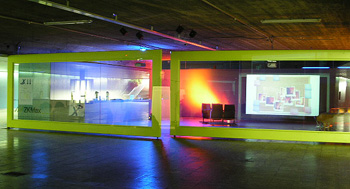 Organizer: XINOBER
Sponsors
• Cultural Council of Munich
•

CONVIVO
European Network for people-centered
design of interactive technologies
Scope
Rapid advances in mobile technologies transform mobile phones more and more to powerful personal devices that offer a multitude of functionalities. Market analysts forecast a rapid growth of the sales number mobile devices in the coming years. Smart Phones and other kinds of mobile media devices are, however, not just another platform for consumers to play-back videos, or to surf the Internet. Rather, a great deal of the real potential of mobile technologies is still to be discovered – by researchers as well as by the users themselves.

In fact, a major challenge for the whole mobile section is the identification and generation of convincing application ideas for mobile media environments that meet real needs of real users, e.g., with respect to social activities, knowledge access, entertainment, health, well-being, and other areas.

With a special focus on new applications that enable mobile users to unfold their own creativity, the aim of the symposium is to determine new research fields that will be essential over the next 5-8 years.

Call for submissions
The symposium invites submissions in the form of papers, position statements, and system demonstrations relating to the following themes. Submission deadline is 30. April. 2005.

FROM MOBILE CONSUMENTS TO CREATIVE USERS
- Creativity in mobile life: scenarios and use cases, e.g.:
- adhoc gaming
- friend finding systems
- mobile story telling
- collective urban memories
- How to inspire new life style qualities by mobile creativity tools
- emerging new social strategies in mobile communities
- users interest in local based mobile communitiesMOBILE

DEVICES AS CREATIVITY TOOLS
- Which technical features of mobile devices can be exploited
for mobile creativity, e.g., for content creation?
- What features are not yet available? Which of them are likely
to emerge on a 5-10 years horizon?
- How to structure the information generated by the participants?
- Can information agents help to structure information
and avoid the potential information overload?
SOCIAL REQUIREMENTS AND IMPLICATIONS
- What can we learn from conducted pilot projects
and case studies??
- What are the essential factors that motivate / hinder
participation in mobile communities?
- Privacy and security needs of mobile users

Format and Programme

The event will start with an opening session allowing the invited experts to introduce themselves and to shortly present their working area. The opening session will be open to the public.

After that, two working groups will be arranged. During intense discussions the group members will develop visions and recommendations for user centred research in the field of mobile experience scenarios.

The results of the working groups will be presented in a plenary session, which is again open to the public. The results will also be published in the Web at netzspannung.org and in a printed conference brochure.

Part of the programme are also:
- an experimental "ringtone_concert"
- and the presentation of xPOSTEN,
a system to push content via bluetooth

Audience and rules of Participation

In order to create a productive discussion forum and due to space limitations participation will be limited to about 20 active participants.
Participants will be selected on the basis of received submissions. In addition, we plan to invite a number of distinguished experts from industry and academia.

Registration

The symposium fee includs participation in the workshop and the presentations, coffee, and ticket for the ringtone concert, dinner on wednesday night.

Early bird (before 1.May 2005): 125,- €
Regular: 175,- €

The fee will be waived for accepted presentations at the symposium.

Registration deadline is 1. June 2005.
contact: info@xinober.de

Former events organized by xinober
In February 2004 XINOBER organised a

conference presenting various projects which dealed with location based applications.

In November 2004 another conference took place in Munich, dealing with site specific, social, and dramaturgical aspects of loacation based and mobile applications.

conference